Incentivizing and leading team members isn't as simple as it used to be.
During my time as a team leader for companies like Disney, Starbucks, and Blockbuster, I discovered firsthand something that changed the entire direction of my life:
If you want to be a more effective leader – if you want to lead your team to higher profits, greater efficiency, faster growth, or any other business goal – you need to approach leadership from a whole-person standpoint.
Your employees aren't just your employees. They don't simply cease to exist after 5 PM. They're whole people with rich inner lives – and they're almost certainly hiding an entire world of untapped talent and skill that could take your company to new heights.
And in my own career, I've seen the magic that happens when leaders invest in their teams and develop their EQ. I'm eternally grateful for the mentors to whom I've had the good fortune to report to over the years.
I also know, from my own experience as a leader of people, an entrepreneur, and a business developer, the frustration that happens when your team isn't hitting their goals, isn't making progress on key initiatives, isn't solving problems, and you can't figure out why.
It's nobody's fault; it's just something that has happened as the world has become a more complicated, more stressful, and more uncertain place.
It's no secret that running a business & leading a team is a lot more challenging today than it was just a few short years ago. It's more demanding. It takes a more specialized skill-set. And that's why old methods of motivation and leadership don't work anymore.
There used to be a time when you could just dangle something shiny & expensive in front of your team and they'd jump through rings of fire for you.
But the entire culture of work has changed, and leadership styles need to evolve in response. Traditional leadership styles were rooted in a predictable culture of top-down, authoritarian corporate structures that are now dying out.
This old-school method of leadership worked great in an assembly-line era where Profit = Hours Worked x Speed.
But the current economy, the current world of work, is built on an entirely different set of rules. One where inspiration and collaboration are what determine your company's profitability (or lack thereof).
And the one key skill you need to influence those things?
Is emotional intelligence.
Emotional Intelligence (noun):
The ability to be aware of, understand, and influence one's own emotions as well as the emotions of others.
(In other words: The closest we'll ever get to actual mind control.)
Emotional intelligence isn't some wishy-washy New Age-y thing. It's actually a highly practical and effective tool that you can use to boost productivity, make more money, and have more fun at work.
And for those who don't know, emotional intelligence is made up of five main components and fifteen sub-scales within the five areas.
EQ-i 2.0 Model of Emotional Intelligence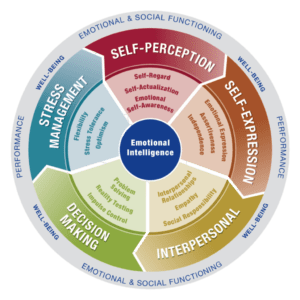 Want proof?
According to the Journal of Organizational Behavior, emotional intelligence is an incredibly strong predictor of job performance – in fact, one study by Indiana University business professor Ernest O'Boyle found that emotional intelligence is a better predictor of job performance than actual intelligence.
That's why both corporate leaders and employees alike can benefit from improving their EQ awareness – because the more you know about EQ, the more effective you can be as a leader, and the bigger an impact you can have on the world.
"I'm becoming a better listener. I'm learning to wait and not jump right in and start talking before people are finished saying what they are saying." ~ EQ-i 2.0 Coaching Client
When you're an emotionally intelligent leader who can cultivate emotionally intelligent teams, it pays all kinds of dividends:
More productive teams. Leaders with emotional intelligence skills are better able to motivate teams – one study involving Motorola found that 93% of employees were more productive after emotional intelligence training!

Better revenue forecasts. When CIBC's Global Private Banking and Trust team gave their sales reps EQ assessments, they found that EQ scores accounted for 71% of sales reps' pipeline sales! CIBC can now predict any given sales associate's performance based on their EQ score.
More sales. When French cosmetics company L'Oreal overhauled its hiring process to focus on EQ, sales agents hired on the basis of EQ score outsold traditionally-hired sales agents by an average of $90,000 per salesperson per year – which resulted in an extra $2.5 million in annual revenue!
Faster pivots. Because it's a lot easier to get buy-in for new ideas when you can influence your team's emotions.
Better ability to adapt to challenges. A big part of business success is knowing how to take a gut punch and keep moving. As an emotionally intelligent leader, you won't just be able to do this yourself – you'll be able to teach your whole team how to do the same.
Less stress & stronger relationships! EQ skills aren't just for the workplace. Once you've mastered your EQ, you can use this new toolkit to reduce stress & anxiety, better regulate your own emotions, and have better relationships with your friends & family – all of which ultimately influences your ability to perform & lead at work.
Best of all, EQ is a skill, which means it can be learned. That means no matter where you're starting from, even if you've never heard of EQ before, you can leverage the power of EQ to become a more effective leader and create better business results.
Join me on the last Thursday of every month for the Active Listening Circle. This is for anyone wanting to build deeper connections with their colleagues, team members and loved ones.
We'll meet between 1-2 pm PST. Each month, we'll take a few minutes to learn one tidbit about active listening along with other mindfulness practices for the workplace, then engage in active listening practice with a partner followed by 5-10 minutes of discussion for anyone who would like to talk about their practice experience. We may also try different types of mindful listening and partner practices during this time. Register here.
Join the Active Listening Circle